Free beer for every woman
Apero National
03 / 2015
In an attempt to break the stereotype that beer is a masculine drink, Belgium's Brewers Federation is offering a free beer to women across the country who turn up at designated bars on the 7th of March. The event is called Apero National and takes place between 6.30 and 7.30 pm, on the eve of International Women's Day.
"The concept is quite simple," says Sofie Vanrafelghem a beer sommelier who helped organize it. "The goal is to get women to raise a toast together across Belgium."
Sofie developed a tasting wheel for the event, designed to ease in beginners to the world of beer tasting, without jargon like yeastiness or top fermentation.
"In case women join us and say 'what do I order, I don't know what I like,' all the Belgian beer styles are in it," she says of the wheel. In French and Dutch, women can seek out flavours like peach, mint or citrus, and turn the wheel.
Indeed, Sofie is determined to reclaim beer for women. From brewing's roots in Mesopotamia to the alewives of the Middle Ages, making beer was a feminine business, but now industrial brewers market lager based on football and lad culture.
"I looked at beer marketing, which was all focused on men, and I thought, what is happening here?"
Determined to find out if beer deserved its macho image, she interviewed more than 150 women, getting them to taste a range of beers. The results were conclusive – while individual tastes vary, "there's no difference between a man and a woman."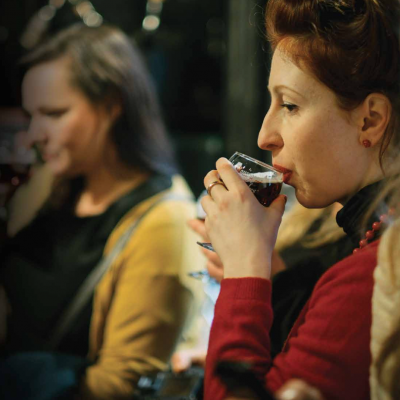 Sofie is also the guest editor of a special Women and Beer edition of Belgian Beer and Food Magazine, which celebrates some of the inspirational women in the Belgian beer world including brewers, hop-growers, and sommeliers. The magazine will be available at all bars participating in Apero National, and on all Brussels Airlines flights coming into Belgium.
According to a recent report by Flemish Food Consumer Organization VLAM more than 60% of Belgian women find that beer is just as much of a woman's drink as a man's. In the survey of 1,000 Belgian women between 25 and 54 years of age, a third (33%) said they drink beer, and 89% said that they are proud of Belgian beer. The survey also found that women who regularly drink beer, are more likely to order a lager or a Belgian speciality beer such as a tripel, than a fruit beer.
More info
Fier op ons Bier: fieroponsbier.be/aperonational/
Belgian Beer and Food 'Women and Beer': http://bit.ly/1wEi2M2
Duvelorium
historium.be/en/duvelorium-grand-beer-café
Belgian Beer and Food
belgianbeerandfood.com
Press related questions
press@sofiesworld.be